Play
Fine Motor Skills Activities For Toddlers
What are fine motor skills?
Fine motor skills are the ability to make small movements using the small muscles within the fingers and hands.
These are skills which toddlers and kids need to use in their everyday lives.
Fine motor skills are not necessarily thought about as a specific learning skill such as reading and writing however it is very important to be able to complete many tasks.
It is a fantastic idea to do some fine motor skills activities for toddlers at home to help build and encourage the work of their fingers and hands which will not only help now but in their future too.
Some examples of when these skills are needed and are of great importance are;
Using spoon, fork and knife
Drinking from an open cup
Brushing teeth and hair
Opening boxes
Using colouring crayons and pens
Painting
Playing with toys such as building blocks
Helping in the kitchen
Getting dressed
Please note that if you try one of the following activities and see that your toddler isn't interested or can't quite work out how to 'play' then that's completely fine.
Leave this particular activity for a few days, a few weeks, or even a month and then try again.
We all know but sometimes need to be reassured that babies and toddlers don't all learn at the same speed and in the same way so do not worry!
Benefits of fine motor skills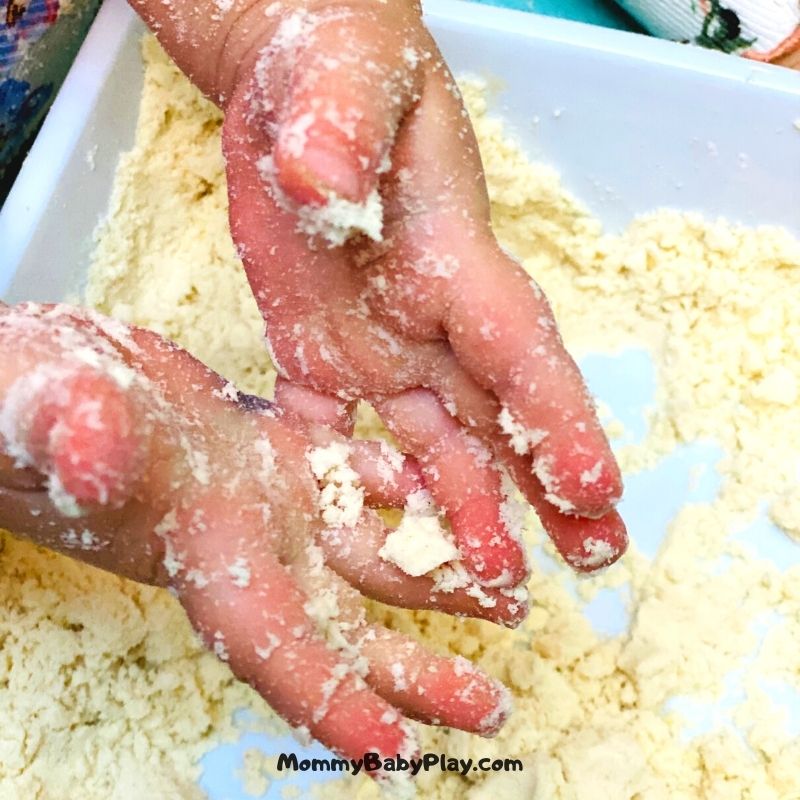 As Early Impact Learning very nicely puts, there are many important benefits of fine motor skills and here are, in my opinion, some of the most important:
Independence: having our toddlers be able to put their own shoes on and fasten their coats themselves is a BIG help for us mummy's!
Hand-Eye Coordination: This leads on from fine motor skills and builds the link between using the hands and eye together leading to hold, touch, throw etc.
Self Care: Your child being able to brush their own hair or teeth and wash their hands is wonderful for also building self esteem. You will often see our toddlers looking as proud as punch when they have completed a task themselves. Their good work should always be praised and encouraged to continue their efforts.
Take a look at Early Impact Learning's 21 important benefits here.
Fine Motor Skills Activities For Toddlers
These exciting fine motor skills activities for toddlers will be beneficial starting from around 12 months to 24months and onwards.
1. Wrapping Toys In Aluminium Foil:
Simply grab a few small toys that your little ones love to play with them and wrap in aluminium foil.
It will feel like Christmas has come early as they see these 'presents' ready to be unwrapped.
They will love to keep their hands busy and try to discover as quickly as possible what is hidden inside. Very fast set up that curious kiddies will love!
2. Pompoms And Pinecones:
A 2-in-1 activity as you can go on an outdoor adventure in the search for the pinecones together.
Toddlers love exploring and finding new things in the great outdoors.
Take a bag with you and ask your toddler to help collect and put in the bag ready for more fun at home.
Once home give your child a bowl of pompoms and watch as they concentrate to find an appropriate space within the pinecones to place them.
Sensory Bins:
All of the following are fantastic activities to be used in your sensory bins (or large containers) and are all ideal for building our toddlers fine motor skills.
Add scoops, spoons, sieves, cups and other kitchen utensils for LOTS of fun!
4. Cereal Sand:
A taste safe activity which you may even save on the cleaning later as our cheeky toddlers will eat all the cereal sand.
Not only does cereal have a similar colouring to sand but also looks very similar too.
The cereal can be blending as much or as little as desired.
I left different textures to give variety to my little girl.
Cereal sand can be ideal for sensory bins and used for practising scooping and transferring skills.
Only 2 ingredients needed to make one of the easiest yet most satisfying activities myself and my toddler have done.
Moon sand is also known as kinetic sand which is just irresistible and a sensory delight.
Bringing the cold wintery weather indoors with this very realistic feeling snow.
You need two simple ingredients to bring this fake snow straight to you.
My daughter initially found the texture of this snow a little strange and unlike anything she had felt before.
The trick is not to force our kids to play with something they don't like.
Try reintroducing it another time and see if they want to experiment further- in our case she was very happy to get involved after explaining what this was.
Rainbow rice is not only an activity which works wonders for our toddlers fine motor skills but it is a good idea to incorporate teaching colours.
Each batch of coloured rice can either be kept separately or mixed to create the ultimate rainbow rice mix.
Keep stored in a ziplock bag ready to be used again and again for more sensory excitement.
8. Playdough:
Playdough has so many benefits and toddlers have an absolutely fantastic time using this from around 12months old.
It is highly debatable who has more fun, us adults or our children.
Manipulating the dough, pinching, squeezing, rolling, cutting smashing is a fine motor work in and of itself.
It strengthens hand muscles, improves pincer grasp which all set a groundwork for holding a pen and using scissors – important pre-writing skills.
Why not try making your own No Bake Playdough Here.
Take a look at our Pumpkin Playdough Recipe And Ideas too.
9. Feed The Bear Posting Activity:
How many cardboard boxes do you have lying around the house waiting for an opportunity to make something creative-well here's your chance!
Toddlers will absolutely love 'feeding' the bear with pasta.
It is amazing to see their progress and improvement of their fine motor skills when you try this activity even with just a month difference in age.
See how to make the Feed The Bear and take a look at our other interesting Posting Activity Ideas which toddlers will enjoy for months to come.
What I also love about this activity is that it can take many different shapes and forms.
Tools that you have available and your creativity are the only limits.
You can also increase the level of difficulty but using different pasta shapes and pasta "holders".
It's also an "evergreen" activity that you set up once but your little one will love playing with it for months and months to come.
Take a look at some examples over on our Pasta Threading article to get your imagination flowing.
Allowing our kiddies to be independently creative with a paintbrush or even using their little fingers and hands to paint is a joy to see.
Yes admittedly it can get messy but it is worth it to see our happy little artists creating the next pieces of art.
Painting can be done in many different ways such as creating cards for loved ones or creating memory cards.
See our Painting Activities For Toddlers article here.
Why is it that toddlers are instantly attracted by water?!
Playing with water is a guarantee and a winning activity for sure!
There are some super simple activities which can be set up in lightening fast time which will have you wondering how you didn't think of them sooner;
Using a spray bottle and pouring water
Sponge Squeezing
Transferring pouch lids with a slotted spoon
Transferring water with pippets
Our Indoor Water Play Activities For Toddlers article explains more
13. Helping In The Kitchen To Wash And Cut Vegetables
Our toddlers show a lot of interest in what us Mummy's are doing around the house and all they want to do is copy and be just like mummy.
This is an ideal opportunity for us to have a little assistant whilst they are learning and building their fine motor skills!
Our current favourite 'activity' to do at home is to wash and cut the vegetables together in preparation for our evening dinner.
Not only does this secretly help them learn but may encourage them to eat their veggies too after helping to prepare themselves.
Note: Always supervise your children whilst using their toddler-friendly knives!
14. Bath Time For The Toys
Leading on from the previous activity of playing with water, washing toys is super enjoyable for our kiddies.
We use all our animal figures or Lego people that we have lying around the house and create a big bubble bath for them.
Lay out another container for drying the toys too.
Give your toddlers the job of washing them with a sponge and passing to mummy to dry or vice-versa.
Be warned, toy bath time may get very splashy so lay out a mat beforehand.