Play
Homemade Moon Sand {Only 2 Ingredients!}
Moon sand or most commonly known (well in my case) as kinetic sand has to be up there as one of the most successful activities I have done with my 19 month old!
Why is it called moon sand you may ask?! Well this crumbly yet moldable sand looks like the surface of the moon (or so we are lead to believe). *Cue a fun idea to learn about the moon and the planets when you have older toddlers.
As well as being one of the most enjoyable activities that my toddler and I have done, it was also by far one of the easiest activities creating the homemade moon sand with only 2 household ingredients.
The moon sand is a sensory delight for both mummy and our children- big and small. The fun of the sand can definitely be used for a wide range of children.
My daughter has a very short attention span for most activities and before long has the house turned upside down with all her toys-not in this case!!
We both enjoyed the easy task of making the sand together and then playing with the finished result.
My little girl ADORED putting the sand amongst her fingers and rubbing it, patting it, pressing it and feeling that wonderful sensation that she had created.
I will explain to you the simplest of instructions and ingredients needed for this activity that you will sure come back to over and over again.
Ingredients For Homemade Moon Sand
2 Cups of flour
1/4 cup of Baby oil (other oil options could be used eg. vegetable oil)
Food colouring (optional)
Note: I have used this quantity which is just enough to be put in a ziplock bag to be used again. If you want a larger amount, base your measurements on a ratio of 8:1 of flour: baby oil.
Tools
Cup/Glass
Spoons
Cups
Scoops
Instructions:
Step 1: Pour 2 cup full of flour into your activity tray.
Step 2: Add 1/4 cup of baby oil and mix all ingredients with your fingers.
Note: Make sure you mix well so that the baby oil reaches all of the flour.
Step 3: Add a teaspoon of food colouring (optional).
FINISHED-Yes it really is that fast and easy to make!!
Don't be afraid to get messy with your curious kiddies- preparation is key.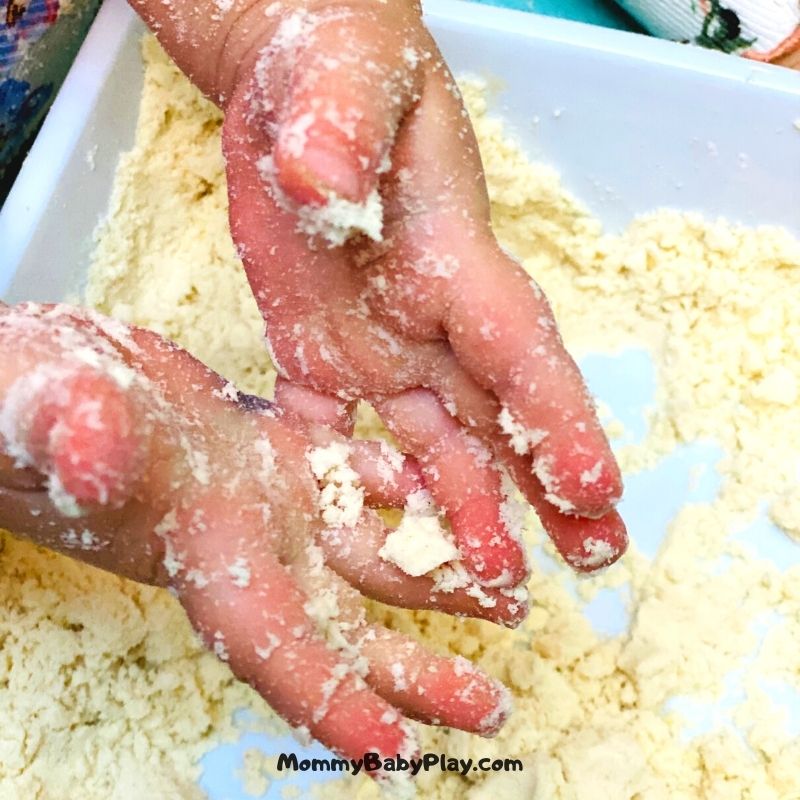 Moon Sand
Moon sand is the simplest yet one of the most satisfying activities to do with your kiddies. The finished result bursts with sensory fun and will have all the family wanting to get their hands in!
Ingredients
2 Cups of flour
1/4 Cup of baby oil
Food colouring (optional)
Instructions
Put 2 cups of flour into an activity tray
Pour in the 1/4 cup of baby oil and mix with hands
Add food colouring if desired
Notes
* Other oil options can be used eg. vegetable oil
*To get a vibrant coloured moon sand, lots of food colouring will be needed
*Store in a ziplock bag to be reused
Benefits of Moon Sand Play
Playing with moon sand is much more than just the obvious sensory play which could turn slightly messy.
Language Development:
This can be built on greatly whilst making the sand and talking about the feeling between their fingers. All of the beautifully descriptive adjectives can be used!
Fine & Gross Motor Skills:
Both skills can be worked on whilst having a whale of a time using their hands, fingers, spoons, cups, scoops, funnels etc.
Develop Imagination & Open-Ended Play:
The sand allows our kiddies to think of all kinds of scenarios and objects that they have around to add to this activity/ play time. A little help could be from mummy by initiating some 'themes' for the sand eg. at the beach, on the moon, race track.
Playing With The Homemade Moon Sand
You can keep this part as simple or as creative as you like because believe me that just a tray of this wonderful sand will keep your children busy and entertained.
You could add a spoon, sieve or funnel which will show different ways that the sand will fall and at different speeds. Our curious munchkins may use their hands to move the sand around into these objects or otherwise use the spoon.
Try placing another tray or bowl close by and watch them transfer the contents from one tray to another….and back again!
Learning shapes using the stencils we have at home to make learning that little bit more interesting. They will love to press down with the stencils and see the shape appear within the sand.
Placing our toy cars into the moon sand was lots of fun for my little one. She loved seeing the trails that the cars left behind.
Be as dramatic as you can making sounds and actions when playing with your son/daughter here and they will have a ball.
You could add any toy to create a varied scene with the sand.
Why not have a science lesson about the moon where the name of this sand derived from.
Let us know how you used the moon sand during play time.
If you fancy getting creative, why not try our: