Play
DIY Pumpkin Puzzle {With FREE Printable}
Are you looking to add more ideas to your simple and easy fall activities?
This DIY Pumpkin puzzle is one of our favorite pumpkin activities for toddlers and preschoolers.
You can easily make it in 10 minutes using just recycled cardboard, a craft knife and craft glue.
You can download our FREE pumpkin design or can simply draw pumpkins with markers.
How To Make DIY Pumpkin Puzzle
Supplies:
2 equal pieces of cardboard about 8″x13″ – I folded a larger piece of cardboard in half with the same dimensions.
Instructions:
Download and print out our FREE Pumpkin Template.
Cut out pumpkin shapes.
Arrange pumpkin on one piece of a cardboard to your liking and trace each shape with a pencil.
Using a craft knife carefully cut along the traced marks. Depending on the thickness of your cardboard you might not be able to cut all the way through from the first go.
In this case flip the cardboard and cut again through the, now visible, cuts from the front side.
As an alternative you can use an old kitchen cutting board and safely do all the cutting work there.
Push the pumpkins out.
Cut down around the edges of each tidying them up. They'll get just a tiny bit smaller from the print outs but that's totally fine. They'll be easier to fit in to the puzzle.
Using a coin trace a semicircle on the side of each pumpkin and cut it out with precious knife.
This will help taking out puzzle pieces easily. 
Glue colored pumpkin cutouts on to each cardboard pumpkin.
If needed clean off excess glue with a damp cloth or paper towel.
If you don't want to use this FREE printable you can easily draw pumpkins yourself.
Glue the cardboard with cutouts onto the other solid piece of cardboard.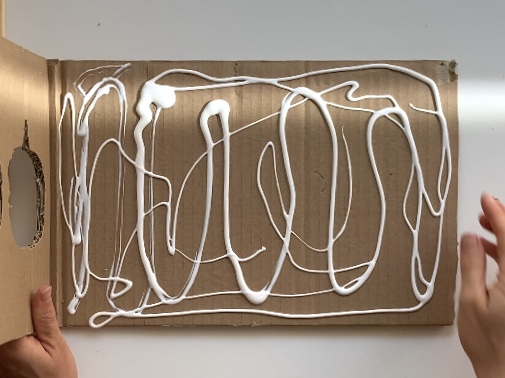 Be sure to trace out pumpkins with pencil before doing that and not apply any glue inside the pumpkin shape. As you can see, I've learned my lesson the hard way LOL.
If this still happens to you no worries! Simply wipe it quickly with damp paper towel and let dry completely before even trying to fit in the puzzle pieces.
Let all pieces dry completely before use.
You can also decorate the edge of the puzzle with colorful washi tape for extra fancy but absolutely not necessary.
That's it!
Happy Playing 🙂